To satisfy your requirements we are able to make some non-standard PCBs
:
Plated slot profiles
In
accordance
with customer's requirements
and
their
projects
we
made
some
of
follows
PCBs
with
non
-
standard
plated
groove
apertures
: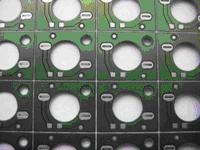 Single Sided Flexible PCBs (Single Sided FPC)
Also you
can
order
single
sided
flexible
PCBs
with
different
dimensions
for
your
projects:
Press-Fit technology
Due to the increased application of SMD components, and the wide use of multilayer PCBs, the demand for interconnection devices utilizing press-fit technology has increased. The installation of press-fit connectors is done after the assembling with all other components. With press-fit connectors it is no longer necessary to wash or clean the PCB.
Advantage:
• Simple and quick mounting;
• No soldering process, damaged components can be replaced easily;
• No thermal stress;
• Shock resistant connection;
•
Environmentally friendly;
Acid etching with a thickness up to 400 microns
You can use acid etching as for single sided PCBs as well as for internal plane layers of multilayer PCBs:
PCBs with metallic borders
We
can
produce
PCBs
with
metallic
borders
for
electrical
contact
between
different
parts
in
one
product without any problems
: